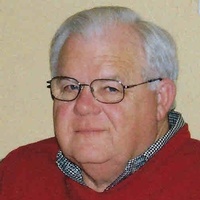 Mr. Thomas "Tom" Montgomery, of Marion, Ark., departed this life on Wednesday, October 3, 2018 at Flo & Phil Jones Hospice House in Jonesboro, AR at the age of 71 years, 1 month and 6 days. He was born Wednesday, August 27, 1947 in Memphis, TN and lived in Marion and was formerly of West Memphis, Hughes and Trumann, Ark. He was a retired salesman, veteran of the Arkansas National Guard, was a member of the Rotary Club in Trumann and Hughes, a member of the Trumann Lions Club, Memphis Cotton Carnival and was very active in the Donate Life organization. Mr. Montgomery was preceded in death by his first wife of 15 years, Dorothy Ann Montgomery; one brother, Dale Beebe Montgomery, and his parents, Charles Thomas and Virginia Beebe Montgomery.

He is survived by his wife of 24 years, Judith Kemp Montgomery and dog Josh; three daughters, Amy (Rod) Hayse of Trumann, AR, Kelly (Mike) McNutt of Harrison, AR and Hally (Matt) Stolz of Jonesboro; one son, Richard (Dabney) Collum of Germantown, TN; one brother, Jimmy "Jim" (Victoria) Montgomery of Jonesboro, AR; one sister, Susan (John) Crocker of Trumann, AR; one sister-in-law, Sarah Begor of Chicago, IL; eleven grandchildren, Riley Adams, Isabel McNutt, Carley Hayse, Eli McNutt, Cade Hayse, Charlotte Stolz, Kemp Collum, Smith Collum, Mary Daloney Collum, Jordan Thompson, Devan Austin; 4 great-grandchildren, Molli Clair Austin, Beck Austin, Cash Long, and Hayse Thompson; and a host of many nieces and nephews.

Visitation will be Friday evening from 5:00 to 6:00 p.m. at Thompson Funeral Home in Trumann. Funeral service will follow at 6:00 p.m. in the chapel of Thompson Funeral Home with Rev. Jim Duffel and Ronnie Dye officiating. Burial will be Saturday morning at 10:00 a.m. in Memphis Memorial Park, 5668 Poplar Ave., Memphis, TN.

Pallbearers will be Neal Turner, Rhett Turner, Chase Montgomery, Richard Collum, Tre Jensen and Willie "Chopper" Lindsey.

Lasting memorials can be made to Mid South Transplant Foundation, 8001 Centerview Pkwy #302, Cordova, TN 38018, or to Flo and Phil Jones Hospice House, 1148 E Matthews, Jonesboro, AR 72401.

Online guest book can be signed at www.thompsonfuneralhome.net.

 
Print Obituary